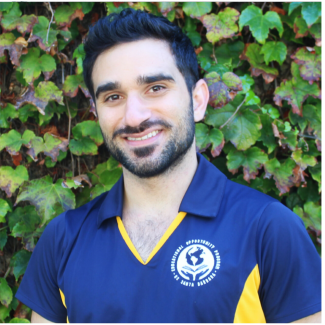 Counselor/Coordinator
He/Him
Middle Eastern, North African, South Asian Resource Center
Office: 2nd Floor SRB, EOP Suite
About Me & Fun Facts
My name is Ashkon and I am a UCSB Alum - class of 2013 - and current graduate student in Global Studies department's MA program. During my undergrad years at UCSB, I spent a great deal of my extracurricular time at the SRB, particularly in the MENEASARC and the RCSGD.
Hometown: Los Angeles, CA
Education: BA - Economics & Global Studies
Interests & Specialties: In my current Master's program, my research emphasis is in gender discourse, Islamist intellectual discourse and women's social movements in the MENA. More broadly, my interests are in the religions, cultures, ideologies and gender identities in the MENASA regions.
Approach to working with students?
Inclusive compassion, embrace of diversity, nurturing of mutual understanding, respect across differences and support for student agency.
Languages: English and Persian (Farsi). Taken coursework in Arabic and Spanish
Why do you love working at EOP?
Working with students who are part of EOP is a truly humbling and gratifying experience! I learn from the tenacity of our students and thrive on the passion I see for being of service to our communities of origin and belonging. The spirit of social justice that is rooted in the history of students demanding greater representation in our system of higher education and getting to work alongside both the student and career staff at EOP that embody these very values also brings great joy and meaning into my life!
What I can do for students!
Offer some institutional history about the MENASARC, connect you with our student leaders, explore major discourses relevant to our communities and listen to their individual stories.