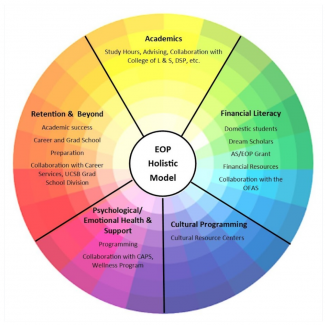 The Educational Opportunity Program (EOP) is committed to validating and supporting each student's experience and nurturing a sense of participation, belonging and empowerment. Our goal is to deliver programs and activities that enable a smooth transition and encourage participation in university activities and opportunities. EOP Counselors utilize advanced skills gained at the Master's degree level to provide counseling through a holistic approach. Counselors assist students with academic, career, financial, and personal concerns. Counselors and staff provide a support network of information and resources to foster student excellence from their arrival to UCSB to graduation and beyond. In collaboration with other departments, EOP works to advocate and provide support for broader student issues. Scroll down to view a list of available counselors and to schedule an appointment or go to our Staff page to view available counselors.
EOP counselors practice a holistic counseling approach that takes into account a range of factors that contribute to student success. In partnership and collaboration with other departments, EOP counselors work with students individually and through group settings to address broader student issues, challenges, and concerns. Counselors acknowledge a range of factors that contribute to student success including overall health and wellness, student goals, academic plans, majors/minors, study abroad, graduate school preparation, UCSB community involvement and much more.
*To schedule an in-person meeting, please call the front desk at (805) 893-4758.
**Counselors can meet with any student for the listed topic, including those in their additional areas of focus.