Image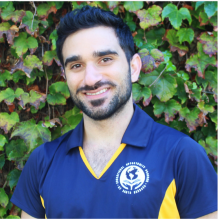 Ashkon Molaei (he/him)
Hello, my name is Ashkon and I am an EOP Counselor and coordinator for the Middle Eastern, North African, South Asian Resource Center (MENASARC). I want to welcome you to our center - your home away from home! The MENASARC  promotes the cultural awareness and academic success of students of Middle Eastern, North African and South Asian (MENASA) heritage. The center also serves as an organizing hub for our MENASA student communities and serves as a dedicated space to organize programming for the campus-at-large. Although I work with our student staff to coordinate for the center, our affiliated student leaders run the MENASARC. 
Through its events and programming, the MENASARC works to support students' embrace of their cultural identities, integration into student life, appreciation for diversity, and commitment to principles of leadership, achievement, collaboration, excellence, and community. The MENASARC Peer Mentors and I strive to create a space where students can connect with their peers, faculty and staff to create networks of support and a sense of belonging in our campus community. Our programming is student-centered, so we invite you to connect with our team on how we may better support any programs or events relevant to our diverse cultures and identities of our student communities.
Meet the 2022-23 MENASARC Team!
Affiliated Student Organizations on Shoreline
Arab Student Group
Afghan Student Association
Armenian Student Association
Chabad at UCSB
Indian Association of Santa Barbara
Indus
Iranian Graduate Student Association
Iranian Jewish Student Association
Lebanese Social Club
Muslim Student Association
Pakistani Student Association
Persian Student Group
Salaam (a part of InterVarsity Christian Fellowship on Shoreline)
Santa Barbara Hillel
Sephardic American Mizrahi Initiative
Sikh Student Association
Students for Justice in Palestine
Students Supporting Israel
MENASARC Student
MENASARC Student Leaders Council
For more information about joining MENASARC Student Leaders Council, contact any members of the MENASARC team
MENASARC Student Leader Resources
Image