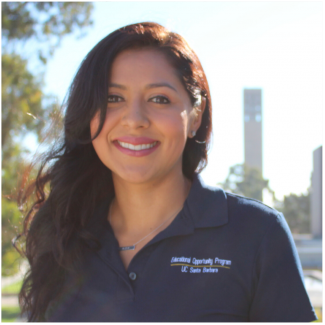 Assistant Director
She/Her
Office: 2nd Floor SRB, EOP Suite
About Me & Fun Facts
I love to travel!
Hometown: Santa Barbara
Education: B.A. Chicanx Studies from UCSB, M.S. Counseling & Guidance from CLU
Interests & Specialty Areas: Financial Aid, food security, financial resources on campus, working with 1st generation students, focus on the holistic student counseling approach
Approach to working with students?
My commitment and focus when working with students is to support, encourage, and empower others to pursue their personal, educational, and professional goals. My counseling approach is a combination of Person Center as well as Solution Focus and believe that all students have the potential to succeed, have the strength to persevere, and the resiliency to overcome and succeed.

Languages: English, Spanish
Why do you love working at EOP?
EOP is home away from home for students and every day I have the opportunity to work with amazing colleagues, student staff, and connect with EOP students!

What I can do for students!
Support them in reaching their potential and holistic success at UCSB!!