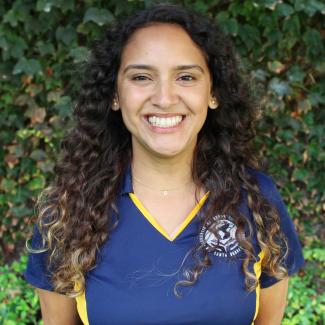 Counselor/Coordinator
She/Her
Scholars Program
Office: 2nd Floor SRB, EOP Suite
About Me & Fun Facts
Hi! My name is Jennifer León, pronouns she/her/hers/ella. I am a first- generation Gaucho, and received my BA in Sociology with a minor in Spanish.Prior to my roll at EOP, I worked in the Office of Financial Aid and Scholarships for 5+ years as a financial advisor and worked closely with our undocumented students and the financial crisis response team. On my spare time I love to explore new places, new restaurants with my husband and two kids.
Hometown: Pasadena, California
Education: Bachelor of Arts in Sociology and a Minor in Spanish
Interests & Specialties: 1st generation experience, first-year transition, financial aid, resources on campus, and the holistic student counseling approach
Approach to working with students?
My approach is person-focused and holistic. I actively listen, as all students come with different experiences and stories and I encourage them to use that as their empowerment to achieve their goals.
Languages: English and Spanish
Why do you love working at EOP?
I love working at EOP because I get the privilege to work with our students, they are all resilient and driven -they inspire me. I also love work with such a great department, so committed to all of our students, they really know how to make you feel at home.
What I can do for students!
I can provide support with any financial aid, academic, or personal concerns. I can connect students to resources on campus.