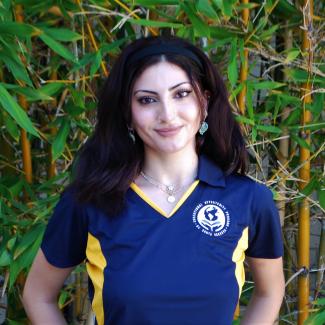 MENASARC Peer Mentor
She/Her
https://shoreline.ucsb.edu/meetings/4220425/MeetWithLeila?tz=Pacific+Standard+Time&date=
Major(s) and minor(s):
Double Major in Middle East Studies and Sociology
What has your experience as a 1st generation or low income student been like?
I've always felt the need to present myself as confident in my academics, even at times where that did not reflect how I truly felt. There have been moments where I wished I could ask a family member for advice on navigating college and career goals but couldn't. Because of this, I frequently searched for opportunities and took advantage of every one I found in regards to jobs, internships, clubs, and grants to make the most out of my college experience and prepare for a career.
What has your experience at UCSB been like?
Fortunately, I've been able to explore a wide range of what our campus has to offer while also enjoying its beautiful location. I've worked with America Reads America Counts, Human Rights Watch, AS Human Rights Board, and UCSB Housing while here. Additionally, I've learned a lot from and developed connections with many of my peers, graduate students, and professors in and out of the departments I study within. And, I have been able to do this while experiencing the majority of my time in college remotely, as I only spent the first 2 quarters of freshman year in person.
Top tips for students:
-Take time to build connections and community with other students and staff. This will help you learn, make friends, network, find mentors, explore your plans for the future, connect with your culture, and so much more.
-Make use of all the resources at your disposal, such as EOP! Attend info sessions! Talk to your professors. Don't be afraid to ask questions! -Enjoy the beach and the beautiful scenery while you still have it!
-Be confident in your abilities, you earned your spot here!