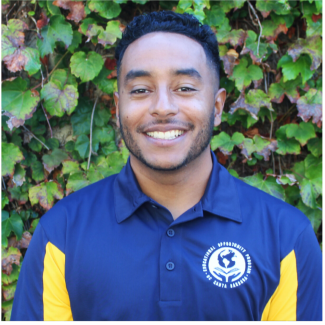 Counselor/Coordinator
He/Him
American Indian/Indigenous Cultural Resource Center (AIICRC), African diasporic Cultural Resource Center (AdCRC), STEP
Office: 2nd Floor SRB, EOP Suite
About Me & Fun Facts
Hi my name is Luther Richmond and I am an EOP counselor and coordinator for the Summer Transitional Enrichment Program (STEP), the African diasporic Cultural Resource Center (AdCRC), and the American Indian/Indigenous Cultural Resource Center (AICRC). I earned a BA in Communication from UC Santa Barbara- class of 2007- and hold a Master's degree in Counselor Education from San Jose State University. I am passionate are being outdoors- kayaking, surfing, hiking, camping and spending time with my wife, two children, and energetic Viszla dog Chelsea.
Hometown: Santa Barbara, CA
Education: B.A. Communication, UC Santa Barbara; M.A Counselor Education, San Jose State University
Interests & Specialties: Goal setting, Person-centered counseling approach, Mindfulness Meditation, Balancing work, life, school techniques and perspectives, Health & Happiness
Approach to working with students?
I take a person-centered approach, which means I like to listen to my students share their experiences, backgrounds, and future goals in order to assist them in navigating their educational and life journey.
Languages: English and Spanish
Why do you love working at EOP?
I love working with undergraduate students who are so resilient and creative. I also love working in a department with such a meaningful and important role and mission.
What I can do for students!
I would like to connect with, listen to, and assist students with breaking down their challenges, obstacles, or problems to identify manageable action items that will help resolve their issue(s). I can also help students develop or create goals and gain perspective on their current and future aspirations. I can connect students to resources on campus and help them find a sense of purpose and belonging within the UCSB community.