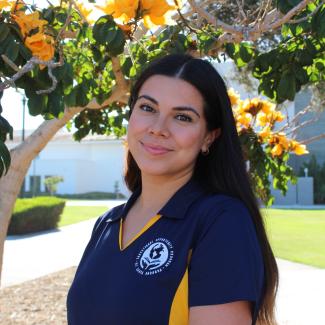 CLCRC / El Centro Peer Mentor
She/Her
https://shoreline.ucsb.edu/meetings/4221650/EOP-PeerAdvisor-MARLENE
Major(s) / Minor(s)
Sociology Major, Applied Psychology minor
Campus Involvements
Ballet Folklorico Director for Raíces de Mi Tierra, Summer Transitional Enrichment Program (STEP) Team leader, Chicanx/Latinx Cultural Resource Center (CLCRC) Peer Mentor, Peer Mentor in Fall 2021 for UCSB Second Year Flocks Mentoring Program, Intersectional Justice Facilitator through completion of the UCSB Professional Certificate Program
What has your experience as a 1st Generation college student been like?
Navigating higher education as a 1st Generation college student has its ups and downs. Sometimes, it's rewarding to know that my parents are supporting me and also being an inspiration for my other siblings. At the same time, this also presents a lot of weight on my shoulders, feeling like I can't talk about my academic/personal struggles with my family because they are on relying on my success. I struggled with imposter syndrome as a first year, feeling like I wasn't smart enough and didn't belong at UCSB. Even as a 4th year, I still ask myself why I have to put more effort to network while others have it handed to them/passed down by their loved ones. However, I have come to realize the importance of self-advocacy and not letting negative self-talk get in the way of my goals here at UCSB. It was difficult to not learn about certain resources until later on in my college career or unspoken rules that should be "obvious" when in an interview/networking, but I have learned a lot about myself along the way. It can be hard at times to navigate college on my own, but I am grateful for the tremendous amount of support that faculty in the Sociology department, EOP, and other student organizations have provided me to learn about resources and opportunities catering to my needs.
Any 1st Generation advice and tips for students?
Get involved and follow student organizations/campus departments on social media! Thanks to staying updated on EOP's instagram page, I was able to learn about this peer mentorship position among others, like the STEP program I did in the summer. Also, following other orgs/departments has allowed me to learn about study jams, events with free food, and career/research opportunities. In terms of EOP, it's comforting to work with staff coming from similar backgrounds as you, helping you gain confidence and slowly diminishing your imposter syndrome. Even if it's intimidating to get involved right away, you will NOT regret it! My best friends at UCSB were all made through my jobs and student organizations I got involved in early on. Don't be afraid to try something new! It's easy to get caught up doing assignments all day, but remember that balance is important and it wouldn't hurt to participate in an extracurricular/leadership position that you're passionate about.