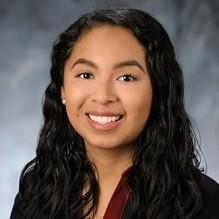 Office Manager
She/her/ella
Office: 2nd Floor SRB, EOP Suite
805-893-5554
About Me & Fun Facts: Hi my name is Martina and I am born and raised in Santa Barbara. I am the daughter of immigrants and the first in my family to go to college. My college journey was not the easiest. As a result, I am always happy to help a student as they navigate their undergraduate journey.
Hometown: Santa Barbara, CA
Education: B.A. in Sociology and History from UCSB
Interests & Specialties: I enjoy discovering new cooking recipes, listening to podcasts, and going to the beach. As the EOP office manager, I help EOP staff members with operational tasks so that they can continue to help students.
Approach to working with students: No two students are the same. As a result, I listen to ensure I am understanding a student's unique circumstances as best as possible.
Languages: English and Spanish
Why do you love working at EOP? EOP truly cares about helping students and is willing to adapt to any changes as we strive to meet the needs of our students. The teamwork environment is something I am proud to be part of.
What I can do for students: I can help schedule appointments with counselors, help with room reservations, equipment checkout, and help share the services that EOP can provide. Having worked for The Office of Financial Aid and Scholarships for almost four years, I can also provide guidance on financial aid.